The support and training we deliver to you; the investment you make will self-fund or we give you your money back. With our 6-month guarantee.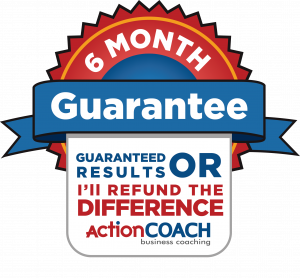 That is, if the amount that you have increased in gross profit after 6 months of coaching is not equal to, or higher, than the investment you have made in business coaching, then we will pay you the differential to ensure that you only experience an upside to working with us.
If you don't benefit, you don't pay. We do!
Our coaching programmes have been tested and proven on a global scale. As long as you make the good-faith effort, do all the required work assigned to you and agreed by you, attend coaching sessions, events and workshops and complete your committed decisions and assignments by the agreed-upon dates – you will see your business improve.​
Coaching Guaranteed to get Results
All of our 1:2:1 Business Coaching programmes come with a 6 month Return on Investment Guarantee, giving you peace of mind that your business will generate more income as a direct result of engaging in our coaching programme than the cost of the programme itself.
What do you have to lose?
ActionCOACH Client Testimonials
In light of the current economic situation we are offering 10 free of charge 30 minute coaching calls every week  to help business owners during this unpredictable time.
We can offer valuable insight into how you can become resilient, proactive and adaptable as well as practical advice to help you. There are no strings or sales pitches attached, we simply believe that we are stronger together and want to give something back to our community.
Please book your free 30 minute coaching session
If we can help in any way
Please click on the link to book a Gifted Coaching Session